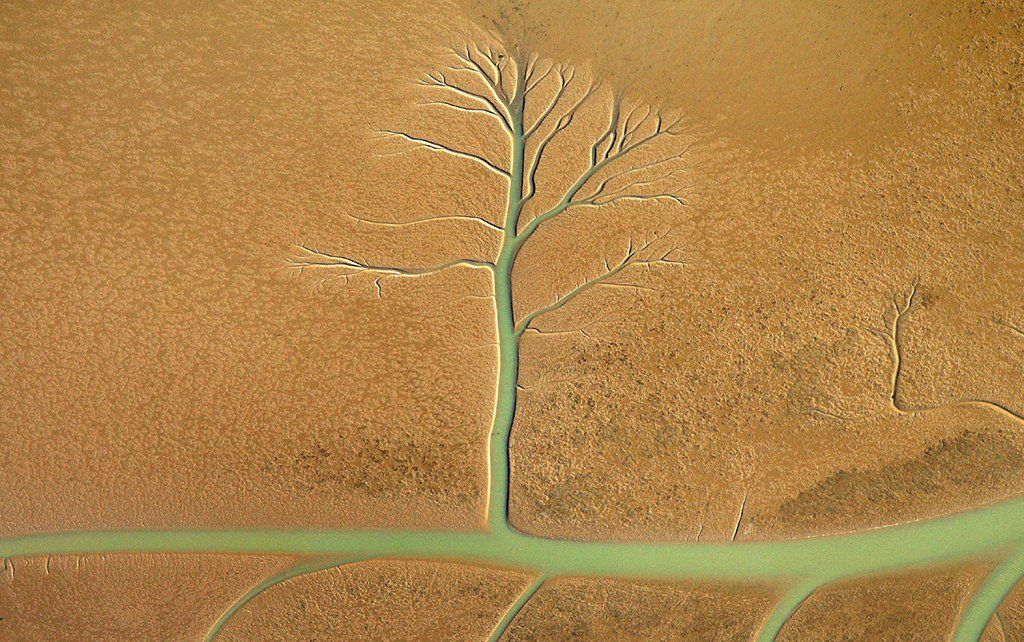 This picture is taken from the BBC and shows water patterns in a harbour in Norfolk. The photos are aerial shots taken by Mike Page, aged 81. The link is here for more amazing photos and Mike's story https://www.bbc.co.uk/news/uk-england-norfolk-55678557
This week however I've been wondering about how my metaphor of the water of life works when the stream runs dry, when we hit such an expanse of dry soil our momentum just dries up. As Christians we are challenged sometimes to move into new spaces where things aren't as easy. Worshipping in a group of friends, with a family who know you well is really different to learning to worship in new ways with a community who are very different to you, and perhaps sing different songs. As a pastor that's part of my training, to learn to find God in these situations and dig deep to find my source again. At the moment though with many churches closed for worship, and services moving online it's a situation many of us face.
I was helped this week by some training and also by some home schooling with my 9 year old daughter! Firstly I attended a course online run by Holyrood House, a retreat and healing centre near Thirsk in North Yorkshire. The facilitator shared a story written by Margaret Silf, from her book 'One Hundred Wisdom Stories', in this it describes this exact scenario. How the water has to almost disappear into thin air before it can be carried by the hot wind across a desert, to reemerge the other side in a new stream or watering hole. It was a helpful story because I think we are often scared of change, and can't imagine how God can possibly use these 'watershed' moments for any good purpose, but often they do seem to crop up in our faith journey.
I think for many of us an experience of grief or loss can trigger these kinds of feelings, but also sometimes the idea or project we'd set up has literally 'run it's course'. It can be hard to regroup. But in home-school I was also reminded that whereas some substances melt and change forever, some others like salt dissolve so they change state. This means when the water dries up again the salt will reemerge intact. We are currently waiting for this to happen in our 'home lab' (on top of the cupboard in the living room!) So perhaps even under immense pressure we can reemerge through great trials and tribulations with our souls intact, however unlikely that seems at first. I am not a scientist, but can imagine there are more analogies to be drawn from this in home school next week!
Our hope though is that even when Jesus life was 'poured out' for us, his body torn apart, and tortured, he was able to be resurrected. This gives us hope because God has gone through this cycle of reaching the end of the stream and reforming in a new way. If he has walked before us then he can be a guide for us as we try and navigate our way through the confusion and mud of our earthly lives.